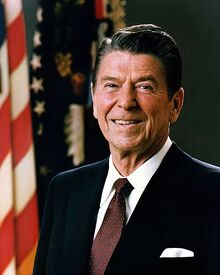 Ronald Wilson Reagan (February 6, 1911 – June 5, 2004) was an american politician and actor, who served the United States as president from 1981-1989.
Presidency (1981-1989)
Edit
Reagan pursued policies that reflected his personal belief in individual freedom, brought changes domestically, both to the U.S. economy and expanded military, and contributed to the end of the Cold War, during his presidency. Termed the Reagan Revolution, his presidency would reinvigorate American morale, reinvigorate the American economy and reduce American reliance upon government.
Ad blocker interference detected!
Wikia is a free-to-use site that makes money from advertising. We have a modified experience for viewers using ad blockers

Wikia is not accessible if you've made further modifications. Remove the custom ad blocker rule(s) and the page will load as expected.